How Arizona Lottery impacts the wider Arizona Community — Alec Esteban Thomson // Arizona Lottery
Alec Esteban Thomson, Executive Director at Arizona Lottery, talks about Arizona Lottery's community impact and business modernization. Unlike other lotteries, Arizona Lottery's funds support a range of causes, creating challenges in marketing. Condensing their community impact into a brief pitch is tough, but this challenge provides an opportunity to tailor messages based on individual interests. Today, Alec discusses how the lottery impacts a wider Arizona community.
About the speaker
Alec Thomson
Arizona Lottery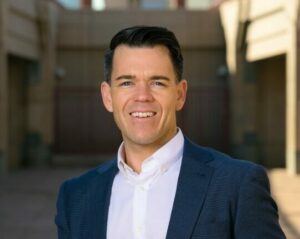 Part 1

How Arizona Lottery impacts the wider Arizona Community — Alec Esteban Thomson // Arizona Lottery
Show Notes
02:19

Alecs background and journey into the lottery business

Alec has over a decade of experience in public service and is now on his third administration in Arizona. He worked for an Arizona-based agency focused on public service and multicultural marketing before returning to government and joining the Arizona Lottery.

03:11

Insights from the executive director role at Arizona Lottery

Alec's prior service on the Lottery Commission gave him a high-level understanding of the industry. His transition to the executive director role revealed the impact of lottery dollars on communities and the state, along with increased involvement in product development.

04:42

Messaging challenges and opportunities around Arizona Lottery's impact

Arizona Lottery supports 17 beneficiaries across a wide array of areas including higher education and environmental conservation. Communicating their broad impact is challenging but offers the opportunity to tailor messages to individual interests.

06:58

Arizona Lottery's tailored messaging and strategies to engage younger players

Arizona Lottery customizes messaging based on the audience. Future efforts focus on appealing to the cause-driven younger generation, showcasing a commitment to diversity, multiculturalism, and community investment to stand out from gaming industry competitors.

10:14

Marketing to millennials in the Arizona Lottery

Millennials are engaged through experiential and multicultural campaigns like Arizona Parks and opportunities to attend the Latino Billboard Awards. Innovations like the Players Club app offer extra winning opportunities, fostering player loyalty despite gaming industry regulations.

14:42

Arizona Lottery's marketing strategies for the holiday season

Arizona Lottery's strategy includes scratcher sales to engage casual players, leveraging the holiday tradition of scratchers in stockings. Theyre also exploring multicultural marketing partnerships like Mexican-American singer Selena, to connect with diverse communities.
Quotes
"We've had a record-breaking year of over 1.5 billion in sales, which translates to over 300 million in returns to the state." - Alec Esteban Thomson

"Being able to speak to different communities in a way that's going to resonate and keep them engaged is absolutely critical." - Alec Esteban Thomson

"As someone who has a diverse identity, when brands engage me in a different way and speak to me, I am definitely willing to be more loyal." - Alec Esteban Thomson

"From a diversity, multicultural, and community investment standpoint, how are companies giving back? That is driving a lot of decisions on how consumers are engaging with products." - Alec Esteban Thomson

"Our dollars going to many different causes is challenging to communicate. But its also an opportunity to tailor our message and talk about the things that people want to hear about, depending on their interests." - Alec Esteban Thomson
Part 1

How Arizona Lottery impacts the wider Arizona Community — Alec Esteban Thomson // Arizona Lottery
Up Next:
Part 1

How Arizona Lottery impacts the wider Arizona Community — Alec Esteban Thomson // Arizona Lottery

Alec Esteban Thomson, Executive Director at Arizona Lottery, talks about Arizona Lottery's community impact and business modernization. Unlike other lotteries, Arizona Lottery's funds support a range of causes, creating challenges in marketing. Condensing their community impact into a brief pitch is tough, but this challenge provides an opportunity to tailor messages based on individual interests. Today, Alec discusses how the lottery impacts a wider Arizona community.

Part 2

Modernizing Business for Today's Consumers — Alec Esteban Thomson // Arizona Lottery

Alec Esteban Thomson, Executive Director at Arizona Lottery, talks about Arizona Lottery's community impact and business modernization. Although the lottery isn't typically seen as a tech-forward industry, small changes like introducing a debit option three years ago have yielded transformative results. Despite strict regulations, innovative players like Arizona Lottery are finding creative ways to modernize their business through technology. Today, Alec discusses modernizing business for today's consumers.

Play Podcast