How brands can leverage influencers — Alessandro Bogliari // The Influencer Marketing Factory
Many marketers have tested multiple platforms to leverage the power of influencer marketing at scale, but it remains elusive. What are marketers doing wrong? Part of the problem is standardizing pricing, not making data-driven decisions, budgeting, etc. Listen to Alessandro Bogliari, CEO and Co-Founder at The Influencer Marketing Factory, as he talks about how brands like google & meta leverage influencers.
About the speaker
Alessandro Bogliari
The Influencer Marketing Factory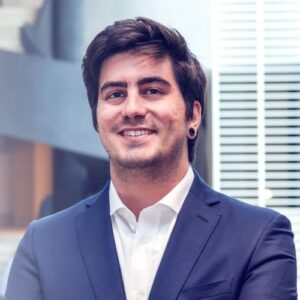 Part 1

How brands can leverage influencers — Alessandro Bogliari // The Influencer Marketing Factory
Show Notes
02:24

The problem of scaling influencer marketing

Not everything works across media platforms. Its almost different rules for different platforms.

04:19

The threat of a TikTok ban in the U.S. and what it means for everyone involved

TikTok provides work for many people and has become part of the daily lives of millions of people. Its a colossal economy, and it remains to be seen if it will survive the current pressure from the U.S. government.

05:48

What are some of the common mistakes marketers make in influencer marketing?

Many marketers start influencer marketing on the wrong foot. For example, too many people start by looking at the influencer, their style, and the type of videos without considering the data and demographics of the influencers audience. Another mistake is not negotiating properly.

09:10

Whats the struggle with mid tier influencers and trying to put deals together that are realistic for both the content creator and the brand?

The mid-tier influencers are growing and realizing they can do more than just sponsor third-party products.

13:24

Budgeting for influencer marketing

Its mostly based on historical data and campaigns because it is difficult to standardize pricing for influencing marketing for many reasons. You can only forecast at best.

17:35

Is there an influencer CPM calculator?

There are some platforms where you can look for influencers, which will give you all the data you need. And some of them also have an internal calculation that gives you an idea of what to pay.
Quotes
"We entered the market of short-form media, so mainly for the music industry, that we realized there was also potentially interesting for anyone else, from beauty brands of clothing, apps, and so on. And now, we do offer that for many different verticals. But again, it started as an experiment on a new platform before the others." - Alessandro Bogliari

"TikTok gives work to many company employees and provides work to agencies like ours and millions of content creators living out of debt. And also, TikTok has partnerships with the NFL, NBA, and many others. So, they're giving work to many other partners because it's a big economy. So again, if we remove the political side, it's a strong move from the US government to do something like that because we're talking about something that is present daily for many in our lives." - Alessandro Bogliari

"There are many things that people do not know about influencer marketing. There are like a lot of things behind the scene. For example, they are looking at the data and demographics of an audience before getting started. Too many people look at the influencer, their style, type of videos, etc. Still, they don't look at the influencer's audience, for example." - Alessandro Bogliari

"Another big mistake people make with influencer marketing is not negotiating properly. For example, to not properly write down the scope of work so that you are on the same page from day one. By that, I mean media rights, for example, are they included? Is it a permanent post? Can you post some other competitors in the amount of time, say six months?" - Alessandro Bogliari

"That mid-range is growing. It's exciting, but I am noticing that they are the ones that can make a stable income, the mid ones, the ones that have a pricing table that can work for different types of brands, and they are more affordable and more accessible. Some of the mid-tier influencers are finally realizing that they have to open up to new revenue streams, merchandising CPM models on, you know, YouTube, media rights, and so on." - Alessandro Bogliari

"It is better not to put all your eggs in one basket. Instead of getting all the big influencers or an army of small ones, try integrating the mid-tier. They're going to bring you something different. The big ones are usually for brand awareness. The mid is a good combination of awareness and conversions, while the small ones are for the micro-communities that can bring you not only conversions but also honest feedback from people that it can use for your right, the improvement of your products." - Alessandro Bogliari

"It's difficult to tell you a rule for influencer marketing, and it doesn't exist. You might pay two people that, on paper, have the same metrics and two different pricing. Why? For example, one of the two could be represented by an agent. And because of that, you have to pay maybe 20% more, or maybe one of the two people got on a TV show, for example, that gives you more authority; therefore, you can ask more, or perhaps, for example, they are really specific in a niche." - Alessandro Bogliari

"We tell our companies what to expect, and they have that idea, but again, it is based on historical data and campaigns." - Alessandro Bogliari

"There are some platforms where you can look for influencers, which will give you all the data you need. And some of them also have an internal calculation that gives you an idea of what to pay, for example, Hypeauditor." - Alessandro Bogliari
Part 1

How brands can leverage influencers — Alessandro Bogliari // The Influencer Marketing Factory