Ins & outs of international sports marketing — Jeremiah Glodoveza // Nium
When it comes to sports sponsorship, everybody in marketing has a take on it. There have been successes, wasted money, and everything in between. How have some brand marketers found success in sports sponsorship? Listen to Jeremiah Glodoveza, Senior Vice President, Marketing and Communications of Nium, discussing the ins and outs of international sports marketing.
About the speaker
Jeremiah Glodoveza
Nium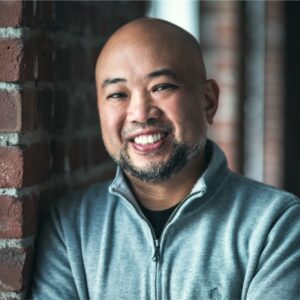 Part 1

Ins & outs of international sports marketing — Jeremiah Glodoveza // Nium
Show Notes
02:09

What is Nium, and how does it work?

Whenever there is a need for a business to send money globally, there is an opportunity for Nium.

03:45

How Nium has found success with sports marketing

Its about the activations you customize and work on with the sports body to drive a unique connection with your clients.

05:20

Getting people into the funnel through sports sponsorship

Hospitality is one way to get prospects into the funnel, but even that, you have to do it in unique ways.

07:01

Creating unique experiences

Sports sponsorship provides opportunities to create one-of-a-kind experiences for prospects and some unique content experiences for additional marketing benefits.

08:42

How to leverage sports sponsorship holistically

More brand markets should lean into the volume of content opportunities you can generate from a sponsorship and sports marketing partnership.
Quotes
"Nium is a global payment and Card issuing company founded about six years ago to address the need for businesses to pay and get paid regardless of where they operate." - Jeremiah Glodoveza

"Sports marketing can be so much more than slapping a logo onto a race car or at an event, and it's about the activations that you customize and work on with the sports body to drive a unique connection with your clients." - Jeremiah Glodoveza

"Hospitality is one way to get people into the funnel, but even that, you can do it in unique ways. So, for example, it's one thing to take a client to a suite and wine and dine them to a great experience, but what we're trying to create together with the I C C are experiences that prospects and clients couldn't get in any other way." - Jeremiah Glodoveza

"We played this charity Cricket match, enabled some underprivileged youth to participate in the game, and provided our partners the ability to play on this pitch. That's an experience you just cannot buy, and regardless of how much money you may have, you may have. And, those are the types of experiences we want to make available and provide the ground for some unique content experiences that we could further leverage for additional marketing benefit." - Jeremiah Glodoveza

"More folks should lean into the volume of content opportunities you can generate from a sponsorship and sports marketing partnership. It creates engaging material, whether access to the game or insider tips on how it is played." - Jeremiah Glodoveza
Part 1

Ins & outs of international sports marketing — Jeremiah Glodoveza // Nium
Up Next:
Part 1Ins & outs of international sports marketing — Jeremiah Glodoveza // Nium

When it comes to sports sponsorship, everybody in marketing has a take on it. There have been successes, wasted money, and everything in between. How have some brand marketers found success in sports sponsorship? Listen to Jeremiah Glodoveza, Senior Vice President, Marketing and Communications of Nium, discussing the ins and outs of international sports marketing.

Part 2Building a global brand from scratch — Jeremiah Glodoveza // Nium

Want to build a global brand? Being global doesn't happen until you build upon your local successes. You need all stakeholders' attention, time, and commitment to flesh out your area of differentiation and then build on it with a clear brand-building strategy. Need more details? Listen to Jeremiah Glodoveza, Senior Vice President, Marketing and Communications of Nium, discussing how they built a global brand from scratch.

Play Podcast